Gear I'm reviewing right now...
I've been doing a bunch of product reviewing lately… mostly for gear that I've purchased for myself for this season's outdoor adventures. For those of you who couldn't care less what I wear or use, I'll refrain from repeating my reviews here on the blog. But, in case you're interested in what I'm reviewing this season, here are links to the various reviews in other places on the interwebs:
Ibex Wool
I have been an Ibex fan for years, since their wool doesn't make me itch, it smells and stays cleaner than synthetics, and their products are exceptionally durable given the abuse I subject them too. I just did a big Ibex order, and have submitted reviews of the Ibex women's Balance Sport Top, Rue skirt and Jacy capri. I love and am wearing the crap out of each piece. If I could live in nothing but Ibex, with a piece here and there from my other apparel favorites, I would. As we speak, I'm in my Jacy capris… and have been off and on since last Wednesday. Even after several days of wear and air travel and sleeping in them, they still look great. I've found the Rue skirt to be a very pleasant surprise — it's great for camping (stays super cool and is easy to change clothes with a bit more modesty, and … um … well … I'll just say it. It makes peeing in the woods really easy and a bit more discrete than pants).
I know Ibex is higher priced than apparel made with other, less expensive fabrics, but I'd rather have a few pieces I adore that I can wear over and over between washes, and that will last even with hard wear than a closet full of cheaper, less durable clothes. I've recommended Ibex to many friends, and have chatted Ibex with other gear heads, and so far I have yet to hear anything other than thumbs up. Look forward to more Ibex reviews, in an upcoming mountain bike gear special post.
Lole Swimwear and Victoria Tank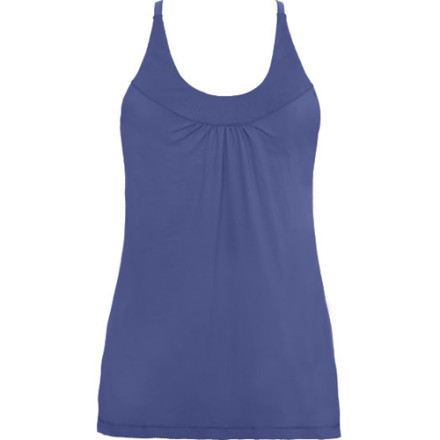 Lole is one of my favorite apparel lines, so I was stoked when they came out with swimwear. The pieces I ordered — two tops and a bottom — have exceeded my expectations both for swimming and, the tops, for climbing wear. I reviewed the Regatta top and the Coral Triangle Top at Backcountry.com.
For a bonus, I got to review my favorite tank of the year, the Lole Victoria tank. It's a tank I fell in love with trying it on at REI, then it has exceeded my expectations for climbing, bouldering, and for casual wear. I'm thinking I should have titled this post, apparel that's WAY cuter in real life than in the picture, since it doesn't look like anything special in that picture… but on, it looks great. I like the way it shows off my climbergirl back and my shoulders, but it skims the middle nicely so it isn't snug around the waist. It's got an effective built-in shelf bra, but because the outer fabric is a bit looser, you don't get that smooshed look that some sportsbra / tank combos give. All in all, I really like this tank.
Jetboil PCS
My buddies at PembaServes have been advocating the Jetboil line to me since I started shopping stoves, but I was really drawn to the big, old, liquid fuel Coleman stoves. After trying a Coleman liquid fuel, which is a great stove for its purpose, but which is more complication to light than I care for before my morning coffee, I saw a Jetboil PCS on sale and thought about giving it a try. After a quick call to the good folks at Pemba Serves to arm me with comebacks for my liquid-fuel-fan friends criticism of a canister stove, I plunked down the change for my Jetboil PCS, and we've been living in bliss together ever since. Here's the full review at campsaver.com.
Oboz Valhalla
I recently reviewed the Oboz Valhalla (and Bridgedale Ventum Light Hikers) for RockClimbing.com. They look like an approach shoe, and I found them to be a great replacement for my old approach shoes, despite the lack of truly sticky rubber. The full review is here at rockclimbing.com.
KT Tape
The big surprise out of my review pile recently has been KT Tape. It may not be glamorous, but this stuff is awesome. I have a history of patellar tendinitis, so I go through a cycle with my knees of training, injury, rehab, training, injury, rehab. One thing that's really helped is McConnell Taping, but McConnell Taping has distinct downsides. For one, it means packing bandage scissors for cutting the tape required. Two, the tape has a limited "life span," especially in hot weather. Three, the McConnell technique is really "strong" … it holds the kneecap pretty firmly in place, which is good for healing tendinitis, but it doesn't feel to me like it's good for all the surrounding muscles and tendons, because it's a pretty firm hold.
I first learned about Kinesio taping during my first big round of elbow tendinitis a few years back. My Physical Therapist used Kinesio taping to help with my elbow rehab, and it helped in a HUGE way. The theories are explained on that website, but my experience was that it provided incredibly gentle support, while allowing a more regular range of motion — it was less of a "hard stop" than the McConnell Taping, and more of a light support. The downside of Kinesio taping is that the tape had to be applied by the physical therapist, and it only stayed on for a day or two before the adhesive lost its stick.
When KT Tape asked me to review their new at-home, consumer-oriented product I was stoked. I'm increasing my hiking and biking, which means I need to have a strategy for managing my knees. I was optimistic that KT Tape could be part of that solution and it has.
The tape is easy to apply, without scissors. The strips are pre-cut, and instructions are included for a number of typical injuries. The KT Tape website has videos demonstrating proper application and so far, the KT Tape has been performing great for my knees. I'm curious to try it on my bicep tendons, since there's a "front of shoulder" application video, but I haven't yet. I'll keep you posted, as I continue to use it, on how it performs over time.
That's about it for now… I have a bunch of other reviews in the pipeline, but nothing ready for prime time just yet. If you have a product that you'd like to see reviewed on retail sites or on my blog, please email me!


Sara Lobkovich Newsletter
Join the newsletter to receive the latest updates in your inbox.