Get Outside Gear Guide from Rockclimbergirl.com, Spring 2009
By Sara Lingafelter, thegirl at rockclimbergirl.com
OK, ladies… here's the first annual Spring Gear Guide from yours truly. I've scoured catalogs, stores, and websites to bring you my picks for this season. Some items aren't new, but they're new to me, and these goodies are from all across my climbing life, including crag, camp and miscellany. Instead of just providing the manufacturer specs like some of the other gear guides, I'm featuring each item of gear here because I either have it and love it; or, because I have it on my real life wish list and am lusting after it.
About Me
I'm an avid climber, in it since the winter of 2004. I balance my climbing life with a professional life (private solo practice attorney, environmental policy work for the Puget Sound Partnership, and freelance writing and editing in the outdoor industry). I climb as often as possible — usually, twice a week or so in the local climbing gym, two or three weekends per month outside around the Pacific Northwest, and I take a few travel trips each year, mostly around the Western United States. I don't discriminate when it comes to climbing — I like it all. Bouldering, sport, trad, long, short… if it's rock, I love it.
All of this means that I use a LOT of gear. Camping, climbing, travel, and lifestyle — my apartment looks more like an REI garage sale than a dwelling.
TheClimberGirl's Love It Enough to Marry It List:

Have It, Love It, Spring 2009

Arc'Teryx R280 Harness
Ibex Balance Underwear and Tanks
End Footwear Trail Thong
Julbo USA Angel Sunglasses
Arc'Teryx Miura 50 Crag Pack
Adventure Medical Kits Women's Edition Outdoor Kit
Sea to Summit X-Mug
Sierra Summits Adventure Tube Sunscreen
and, some additional Honorable Mentions from LEKI, Voodoo Climbing and Petzl on gear you'll hear more about in upcoming posts.

Am Lusting After It, Spring 2009

Mountain Hardwear Women's Cloud Rest Sleeping Bag
Omega Pacific Link Cams
Red Chili Matador
BlueWater Ropes Titan Loop Chain
Lole Swimwear
Kelty Kitchen Sink
Naturally Bamboo Ethical Apparel
MSR Dragonfly or Coleman Exponent Feather Camp Stove
Keep reading, for the detailed reviews of the items on my "Have It, Love It," and "Am Lusting After It" lists!

Have It, Love It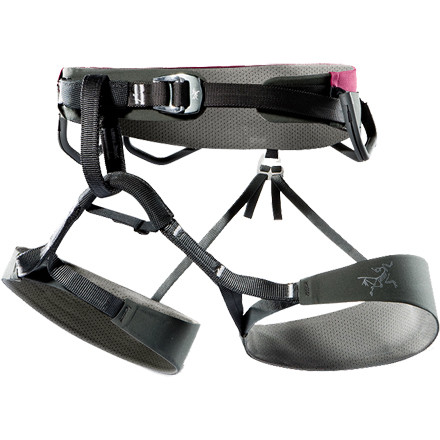 Arc'Teryx R280 Harness
I know I'm late to the ultralight harness party, but I didn't just want to jump on the hype bandwagon. My harness saga has been ongoing, and I just can't find a fit in a conventional harness, though, so recently I started looking at the ultralights. The Arc'Teryx R280 is working out fantastically for me, and it's the harness I turn to first at this point whether I'm inside or out.
This harness gets the highest praise I can imagine for a harness: I don't even think about it when it's on, whether I'm belaying or climbing. After years of ill-fitting harnesses, ranging from semi-uncomfortable to actually drawing blood around my hips, I'm used to my harness being a source of discomfort and annoyance during a climbing day. The Arc'Teryx, on the other hand, goes on and I could almost forget it's there. Whether belaying or taking falls, the harness has exceeded my expectations. Most of all, though, this harness is a perfect example of the importance of fit.
I've never tried on a non-adjustable-leg-loop harness that actually fit me. Usually, even the womens' models are either too small in the legs or too big in the waist. And, with other self-locking buckle harnesses I've tried, I've had to undo the self-locking buckle to get the harness over my hips, in order to have it fit properly around my waist. No bueno.
On the other hand, I was surprised when I consulted the Arc'Teryx size chart and tried the harness size my measurements indicated and it fit perfectly. I didn't have to undo the self-locking buckle to get the harness over my hips, and the leg loops fit closely but are not tight (since I'm at my "winter weight," the leg loop fit will only get more roomy as I get into "climbing shape"). We're all different, but if you're like me, and have had trouble fitting other brands, take a look at the Arc'Teryx line.
Even without the traditional padding, this harness is comfortable. I wore the harness to work my hardest ever redpoint attempt on a sport route last weekend, including hangs and lead falls, and had no discomfort or bruising (I literally don't know the harness is there, except for the fact that it does its job).
Gear loops are adequate for sport or trad climbing, and the drop seat is easy to operate. I got to see a rundown of the technical, design and strength specs on this harness by my friends at Waypoint Outdoors, one highlight of which is that Arc'Teryx has repurposed scrap fabric from its outerwear line for the fabric cover for the webbing "guts" (a nice, "green" touch). My harness advice remains the same: shop for fit, fit, fit and fit. I'm just pleased to have finally found a harness that actually fits me.
More information about Arc'Teryx: http://www.arcteryx.com
Ibex Balance Underwear and Tanks
Boys, just go to the Ibex site and check out the men's underwear. Now, skip to the next item in the review, kindly.
Girls, you've got to check out this underwear. So many of my reviews start with "I was really skeptical that…" and here's another. Growing up, I never wore wool — my mom is sensitive to it, and I always found it itchy and uncomfortable — until I found my beloved and trusty Ibex Wool baselayer on clearance from Zappos.com (similar to this top). I have since worn that top on nearly every climbing trip I've been on (first recorded pictures of it are on route during my Joshua Tree trip back in 2006). It's provided a warmth layer or sun layer, depending on conditions, and it's practically a second skin. After wearing out my other synthetic next-to-skin items earlier this year, I decided to give the Ibex underwear and tanks a try.
I'll make a long story a little shorter, and just say — the Ibex Balance tops and underwear are multiplying like bunnies in my underwear drawer. They're comfortable for long days of travel, climbing, and life… I've lived in the Balance Briefs, Balance Thongs, and Balance Sports Top since the first order arrived. They're the first items I pull out of the "clean clothes" pile after I do my laundry. They aren't a bit itchy, the fit is ideal for active pursuits, and they really do stay fresher smelling than synthetic baselayers even during long, hygiene-challenged trips.
The Balance line hand or machine washes easily, and hangs dry overnight. I've already washed a few of my pieces a bunch of times, and they still look brand new. I know that wool underwear might sound crazy — but I even have to put in a thumbs up for the Balance Thong, and I'm not a thong girl. Where usually a thong-wearing attempt means coming home to change after a few hours because they're so uncomfortable, my first day of trying the Ibex Balance Thong I actually forgot what I had on… did a whole work day, then a climbing session at the gym, then got home and started to change and was (seriously, don't make fun) shocked that I'd completely forgotten about my underwear. I'm sold, and I'm slowly swapping out my synthetics and cotton underthings in favor of more Ibex items.
More information about Ibex Outdoor Clothing: http://www.ibexwear.com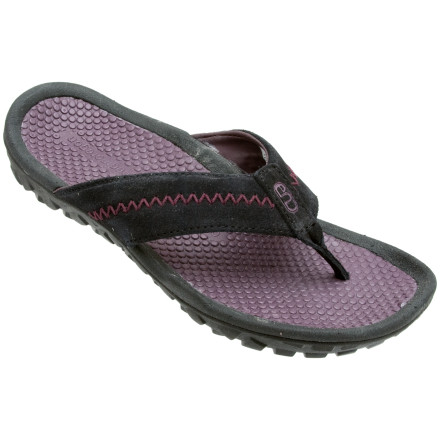 END Footwear Trail Thong
END Footwear, based in Portland, Oregon, is in their second season of production with an emphasis on road and trail running, light hikers and water shoes. I've had a correspondence going with END since they joined Twitter and have been impressed from a distance with their emphasis on sustainability and environmental impact (and not just as marketing buzz words).
I haven't tried their trail runners or light hikers yet, but I'm in love with my END Footwear Trail Thongs (Men's version also available). I've been wearing cheap, old flip flops at the gym and around the crag for the last few years, but figured out that they seem to aggravate the foot cramps I sometimes get while climbing. When I tried on the END Trail Thong I was impressed… light, comfortable soles with a great fit on the upper. After wearing them almost nonstop around the gym and town, I knew I liked them. They made my "love" list after I wore them for a climbing day at Vantage. They stayed on my feet so well I wore them almost all day; never once did I almost lose a sandal. I even unintentionally hiked a steep, loose scree slope in them (something I usually reserve for my heavy duty approach shoes) and they held, stayed on, and did their job. They've got a nice soft sole, which makes my feet feel like they're getting stronger, and they're great for around the gym, crag, and casual wear.
More information about END Footwear: http://www.endfootwear.com

Julbo USA Angel Sunglasses
I've been wearing the same pair of Julbo Lights for, I think, ten plus years. I bought them from the REI Outlet way back in my first round of road cycling days, and they've been my "active glasses" ever since. They're light, grippy, and sit close to the face, which makes them handy for climbing. When I saw the Julbo Angels, another close-fitting, suitable for small faces frame, I was excited to try them out. First impression was that they may pinch behind my ears, but I have found, in wearing them long stretches in the car and during a climbing trip, that they're actually really comfortable (and unlike my Lights, they stay on, without the silicone pads behind my ears that sometimes catch and pull long hair). They give me a bit more coverage than my Lights, and they seriously don't budge on my face. They feature a thicker, durable feeling frame but are still super light, and they fit nicely even with my helmets. I decided to buck my own convention and love the pink ones, but they come in black, too.

More information about Julbo USA: http://www.julbousa.com
Arc'Teryx Miura 50
I'm a pack connoisseur. My stable is extensive. And the newest addition is the Miura 50. This isn't a backpacker-pack-turned-climbing-pack… this sucker is, ground up, a climb pack. Instead of a traditional drawstring top closure, creating a choke point for stuffing gear, this bag features a wide, roll-top closure that's easy to open, easy to load, and easy to secure. In addition, the bag zips entirely open for easy access at the crag thanks to two full length, heavy duty zippers on the sides. There are two outer front pocket for first aid kit, lunch and miscellaneous other, and two big, reinforced gear loops inside for organization. The Miura also has a feature I'm noticing on the newer packs out this year — splendidly molded waist belts that are shaped to the curve of the wearer's hip. For a full sized, no-suspension crag pack, this is my top choice and I've recommended it to a number of friends already. The "Short" fits me perfectly (this is a unisex pack, so fit accordingly).

More information about Arc'teryx: http://www.arcteryx.com
Adventure Medical Kits Women's Edition Outdoor Medical Kit
AMK recently released a pack-sized Women's Edition Outdoor Medical Kit, with all the basics from the kits we've used and loved for years, plus those few extras we all wind up stuffing into a ziplock or shoving into our already overstuffed medical kits. Not to mention, the "extras" AMK added to the Women's Edition could come in handy for boys, too (I have more than one climbing partner who is prone to nosebleeds, for example). Tampons, waste disposal bags, and generic "Cramp Tabs" (Acetaminophen plus a diuretic) round out this impressively complete kit, which also includes hand sanitizer, a handbook on wilderness and travel medicine more complete than the kits I've used in the past, basic first aid medications, wound care items, dressings, an elastic bandage, blister gear, safety pins and a "splinter picker/tick remover." AMK "didn't make it pink, and didn't pack it with lipstick & nail files," according to the hang tag. Somehow, they managed to pack more into a smaller package than my current, now retired-to-the-medicine-cabinet kit.
More information about Adventure Medical Kits: http://www.adventuremedicalkits.com
Sea to Summit X-Mug
I'm a little embarrassed to admit the extent of my love for the Sea to Summit X line, but here goes. I eat my breakfast cereal out of my X-Bowl almost every day. When I saw the X-Mug I was a bit skeptical of whether the flexible, collapsible silicone would stay upright and secure enough for consuming hot beverages… in test runs at home and in the field, I haven't had the mug collapse on me once. The X-Mug doubles as a two-cup measuring cup (score), it nests perfectly in my X-Bowl for packing, and the rigid plastic around the top both keeps the cup stable, and, gives you a non-hot place to hold the cup when in use. I also just played with an X-Plate while out shopping yesterday and it's now on my wish list. The X-Plate makes an awesome cutting board, something my camp box has been lacking.

More information about Sea to Summit: http://www.seatosummit.com
Sierra Summits Adventure Tube Sunscreen
Sometimes I get an email from a PR company or rep that catches my attention and merits an immediate response… the inquiry I received a few months ago from Sierra Summits about their Adventure Tube Sunscreen was one of them. I am fair skinned and light-haired, and I was packing for a trip to Red Rock at the time, so was excited to get to try out a sunscreen designed for use at altitude. I was really impressed with this sunscreen. It isn't exactly "disappearing" on your hands — it is a rub-on application, and it has a bit of slip to it, so I did have to spit-wash my hands and rub 'em on my pants before climbing to get my grip back, but that's acceptable (and I haven't met a lotion yet that didn't require that. I usually use the spray ons to avoid having to touch them, but they have obvious drawbacks too (environment, overspray, propellants + ropes = no bueno)).
I typically apply sunscreen in the morning when I'm getting dressed, then again when I get to the crag, then again mid-day. Because of the nature of this trip, I only had one chance per day to apply sunscreen. Even with one application per day, in tons of sun, I didn't burn one bit (except my lips — the very first day, I assumed the lip product was sunscreen since the packaging matched the packaging on the sunblock… oops! my lips sizzle fried as a result, but I did use sunblock from another manufacturer on my lips the rest of the time, and found the Sierra Summits lip moisturizer to be very soothing and healing as a non-SPF lip option). My climbing partners, who weren't using sunscreen, were fried after day one — so it wasn't a matter of conditions.
As a side benefit — usually, I tend to have a skin reaction to chemical sunscreen. I use them anyway, because the skin irritation is not a long term risk, while sun exposure is. I just assumed that I'd have the same issue with this one given that it contained non-physical sunscreens … and very much to my surprise, I didn't. My skin did great with it, despite not-terribly hygenic conditions. Once it stops raining here in the PNW, this may become my daily sunscreen.
More information about Sierra Summits: http://www.sierrasummits.com
Honorable Mentions:
The amazingly wonderful folks at Voodoo Climbing (welcome, Lisa Rands, to the family there!) are the U.S. distributor for the Moon Climbing Hangboard (when they can keep it in stock) I'd hang if I owned a place to hang it, they make climbing holds, bouldering pads (and sweet dog beds), and swanky chalk bags. Not currently available on the website, but in regular rotation in my wardrobe, are my beloved Voodoo schwag t-s and hoody.
I'm relying on trekking poles substantially less than I used to since my knees have gotten so much better over the years of climbing and hiking. As a result, I haven't had an opportunity to really put these through their paces yet, but I have retired my old, frustrating trekking poles in favor of a pair of LEKI Wildflower Series Diva Aergon Antishock Trekking Poles. My old poles would come loose (as in, they'd go from compact/packed to expanded) when stowed on my pack while hiking, so I had to stop to tighten the adjustment on them every once in awhile. They were also a hassle to expand and close even though they replaced my first pair which were even more of a hassle to expand and close. The LEKI poles don't budge while stowed, and they have a super comfortable grip, which fits my hands like a glove. They're super light, they seem quieter than the poles I've used in the past, and I'm excited to get them out for more rigorous testing as the summer goes on.
I've also been breaking in a Petzl Altios helmet. I've been climbing in Petzl Elios helmets since I started, and have loved the Elios since going up to a size 2 last year, which is a much better fit for my fat head (and long hair) than the size 1. The Altios performed comfortably for me (and a climbing partner, who also tried it out) during my last trip out, both for belaying and while climbing. The mesh suspension on the interior does keep the helmet in position a tiny bit better than the Elios, and the helmet is lightweight and comfortable when on. The profile is a tiny bit higher than the Elios, so I anticipate I'll crag in the Elios but will use the Altios whenever I'm at a location with a higher rockfall risk, and, for my North Cascade adventures this year. If you've been on the fence about buying or wearing a helmet, check out this year's lineup.
Am Lusting After It (aka, the Wish List):
Mountain Hardwear Women's Clouds Rest
I've been using the same twenty degree synthetic sleeping bag now for YEARS, and the last two seasons the insulation is really showing its age. I have cold spots where there's absolutely no fill, and since I'm 5 foot 6 inches tall, I'm right on the cusp of a regular length or tall length womens' sleeping bag. I tend to prefer regulars now that I'm used to them, so that I don't have too much dead air in the bag, but finding a fit has historically been a challenge. I have yet to snuggle down inside the Mountain Hardwear Women's Clouds Rest bag, but on paper, it's the one I've been looking for in stores to take a closer look at, and I'll post an update once I've gotten my hands on it.
More information about Mountain Hardwear: http://www.mountainhardwear.com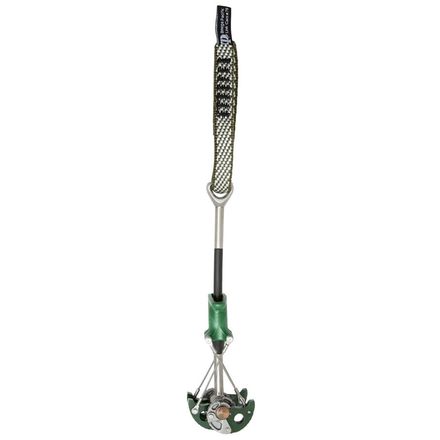 Omega Pacific Link Cams
For two years running, the Omega Pacific Link Cams have been on my wish list — I've been trying to accumulate micros, first, though, since the Link Cams will be doubling up on sizes I already at least have singles in. This might be the year, though, since I'm still undecided on the rest of my micro acquisitions, and the Link Cams just came out in two new sizes (Purple and Green). The Link Cams appeal to me for their ability to protect flaring cracks, which I run into with alarming regularity on trad routes, and, as "oh, I wish I hadn't left my Yellow Camalot on the anchor" doubles for my Black Diamond Camalots.

More information about Omega Pacific: http://www.omegapac.com
Red Chili Matador
Now, these might be overkill for me. I mean, I'm not climbing 5.14 or bouldering v10. I adore my Red Chili Corona VCRs, and I just had my trad shoes resoled, so I don't plan to rush out and buy any new shoes right away. I'm well stocked with those two pairs I'm happy with. My VCRs, after I can't remember how many trips and gym sessions, are almost due for a resole, so when I started looking for a resoler who uses Red Chili's RX1 rubber, I saw that this new show is coming out for 2009. While the toe down and "new designer upper" are lost on me, I like that these are a synthetic — while potentially smelly, it makes dialing in fit a bit easier for folks who aren't as familiar with Red Chili's sizing — and, I love that they've got three velcro straps instead of two. Someday, climbing shoe manufacturers will figure out why they shouldn't make climbing shoes in the color black, but if I *were* in the market for shoes for my bouldering trips in the shade at Squamish, these are what I'd pick up.
More information about Red Chili: http://redchili.de
BlueWater Titan Loop Chain
I never understood the benefits of a loop chain over a daisy until I had to aid the bolt ladder on Eagle Dance at Red Rock. Suddenly, what usually seems like child's play — clipping the correct, safe, loop on my anchor daisy — because a completely complicated matter requiring way more attention than my tired and frustrated body had to spare. After two bolts, I made a mental note to pick up a loop chain. The BlueWater Titan Loop Chain is a super light, strong personal anchor option, when used according to the instructions. I typically use two slings as an anchor but more and more am using my daisy and a sling; the BlueWater Loop Chain is what I plan to pick up to retire my daisy.
More information about BlueWater Ropes: http://www.bluewaterropes.com
Lole Swimwear
OK, I know most people don't think of swimwear as climbing gear, but hear me out. I spend most of the warm weather season climbing in swimsuit tops and shorts. Finally, one of my favorite apparel manufacturers is making swimwear for girls like me. I haven't yet gotten to see the line in real life, but some of the tops look PERFECT for my might-be-seen-at-the-crag-when-it's-too-hot-for-a-shirt-then-let's-take-a-dip-in-the-lake days (see, e.g., the Regatta Sweetheart Top, pictured here). I've been a fan of Lole's line for both activewear and work-appropriate wear as well, so am excited to see this line of swimwear for truly active women.

More information about Lole: http://www.lolewomen.com
Kelty Kitchen Sink
I came across this while browsing on a recent shopping trip, and it almost came home with me. I've been using a collapsible bucket for years, but the Kelty Kitchen Sink is a nifty step up. The center storage/sink is the perfect size for transporting my "camp kitchen" when not in use, and holds water for dishwashing. The sides pop out as dish drainers, even.
More information about Kelty: http://www.kelty.com
Naturally Bamboo Ethical Apparel
I haven't yet met a Naturally Bamboo product in person, but I've been keeping an eye on them since getting connected on Twitter. They're gearing up to release a baselayer line at the Summer Outdoor Retailer Show in July, and I'm looking forward to seeing the line up. More and more I'm finding myself looking at fabrics other than conventional cotton and synthetics for baselayers, and I love the feel of bamboo fabrics against the skin. I'm excited to see what they come up with in their baselayer line.
More information about Naturally Bamboo Ethical Apparel: http://www.naturallybambooclothing.com
MSR Dragonfly Camp Stove, or maybe the Coleman Exponent Feather. I can't decide.
I've been bumming stove time from my buddies ever since last spring, but I think I've finally decided on the stove I'd like to live with, long term relationship style. I'd actually decided on the Coleman Exponent Feather Backpacking Stove after bonding with my climbing partner's older version of that model … it boils water faster than any other stove I've tried, and I don't know, there's just something about it I like. It's sturdy, the cooking surface is close to the flame so it's good and efficient, and it's more adjustable (simmer to boil) than some of the backpacking stoves I've tried. I just have a very soft spot for that stove after the time we spent together at Joshua Tree. But, while shopping stoves last weekend, I looked again at the MSR line and the MSR Dragonfly may be calling my name. I like that, unlike the Coleman, the fuel bottle is separate from the stove assembly, so when not in use the fuel bottle can be closed up snug. My climbing partner's Coleman doesn't leak; but my instinct is that I'd worry less about leakage with bottles to close, than with the stove assembly to worry about. We'll see. I may change my mind again… the Coleman just has so much character, and it really does boil water FAST. I'll let you know what I decide.
More information about MSR: http://www.msrgear.com
More information about Coleman: http://www.coleman.com
What's Missing?
I still haven't found climbing pants I adore, though I appreciate all of the great suggestions you've sent in over the last few months. I still climb in my $19 Calvin Klein cords from Costco about 90% of the time, and an ancient pair of no-butt-left GAP jeans the other 10%. I try on climbing pants a few times a year, so will keep you posted if I find the holy grail of fit, comfort, pockets and durability.
The other item I've got to retire this year but haven't found a replacement for are my Five Ten Insight approach shoes. I've worn the traction nubbins down to almost nothing over the last three years, and as a result they no longer have the traction I've come to expect. I'll likely wind up replacing them with another pair of… drumroll please… Five Ten Insights. But, I would like to see more variety in truly sticky, worthy-of-death-slab approach shoe options. Namely, a really well-built, light and fast, well-ventilated shoe with truly sticky rubber outsoles. I've talked to a couple of shoe manufacturers about this segment, and am excited by what I'm hearing in new product development… so will keep you posted!
Finally, I'm still undecided about a summit pack. Summit packs are an area that I've had the benefit and curse of using friends' … it's nice to get to try before you buy, but then when you really refine your criteria, it makes it harder to pull the trigger. I like a small pack that just barely fits a water bottle or two, two headlamps, two pair of approach shoes, and a couple of granola bars. Easily hookable arm-loops for cleaning gear to are also a key criteria. Nice, comfortable straps and a good fit are a bit harder to come by on these teeny packs, so I'm still shopping.
I've also decided to build-my-own when it comes to quickdraws, after climbing on friends' for years. But, more on that in a separate post, after I actually choose my biners (I'm thinking Mammut, but will keep you posted).
Yawn…
Whew. That was a lot of work.
Thanks, as always, for reading and for sharing your own thoughts. Thanks also to Arc'Teryx, LEKI, Julbo, END Footwear, Petzl, Adventure Medical Kits and Sea to Summit for providing review samples in response to my inquiries; and special thanks to David, Dustin, Jessica, Gina, Larry, Dave, Brad and the Pemba crew, Bob and Jim and the Waypoint crew and (oh, I have to stop somewhere) … just 'cause you're wonderful peeps who happen to work with way cool companies. Whether retail, pro deal or review sample, you'll get my honest review here, of products I've hand picked — but the support and encouragement I'm receiving from manufacturers, reps and the industry at large is truly, truly appreciated.
Now it's your turn…
Please chime in on your own favorites (new and old) in the comments, below.
Sara Lobkovich Newsletter
Join the newsletter to receive the latest updates in your inbox.