On the other hand: "pink gear" done right
OK. We're having a LIVELY discussion about frustrations with finding gear and apparel for us climbergirls over on yesterday's post. I promise, after this, it's going to be back to my regularly scheduled programming and we'll take a little break from industry chatter, but we've talked a lot about our frustrations with manufacturers and retailers, so I wanted to flip it around and give some credit to some of the folks that I think are doing right by girls. This is not at all an exhaustive list, since it's just based on the gear I actually own and use … so please share your comments about the gear that you actually own and use, fellow outdoorsygirls, with a little bit about why you love it.
My favorite things…
My Marmot Neve Sweater (aka my Blue Puffy). I seriously tried on every puffy in several stores before settling on this one. While mine is a robin's egg blue, which wasn't my first choice in color, it's the only puffy that actually kept my midriff covered when I lifted my arms above my head, and that had a zip-up front (for ease of tying in/checking my tie in/etc.) I saw somewhere that the newest release may have a hood (but haven't confirmed)… that would make it the worlds most perfect puffy for me. I've worn mine for about two years, I think, on trips and in daily life. I've washed it several times, and it's still hanging in there (though is starting to show its age, mostly because of the light color of the shell). I heart my puffy.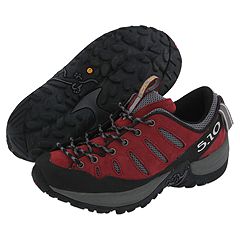 My Five Ten Womens' Insight Approach Shoes. I have two pair… one in a size 9 for hiking and approaches, and one in a size 8.5 (those are my "dress" approach shoes for those occasions that require a clean, less scuffed pair of approach shoes — dates, black tie events, etc). I may not be the one for girls to listen to on shoe fit, since I actually tend to fit men's shoes better than most women's… but these are the best approach shoes I've ever worn. The outsole is so sticky that I can't wear anything else (they're not nonstick, FYI). I've gotten so used to my traction in these, that the thought of trying to descend a sketchy slab at dusk in anything else terrifies me. Approach shoes done right. Five Ten has relegated their women's line to it's own "tab" on their website, and I'm having trouble finding a lot of suppliers who still have the women's Insight available but I don't see a "newer better" model on the Five Ten website, so fingers crossed they're going to keep this shoe around.
My Mountain Hardwear Butter Hooded Topper. This is a newer fave… but you know when you buy a piece of apparel for climbing and it finds its way into regular circulation in your wardrobe, and really it's the only thing you ever want to wear? So, you do, and it becomes part of you, and on laundry day you just don't know what to put on since you have to eventually wash it? Well, that's this top for me. It feels like "buttah," it fits perfectly, the thumb holes mean my hands stay warm when I need something less than gloves, and it has a hood. The hood makes me look like a hood, but I don't care. Plus, I have it in green, which color coordinates with my afore-mentioned sage colored dress approach shoes, which means jeans + tank + butter topper + dress approach shoes and I'm good to go. I wish I could have an entire wardrobe made out of this fabric. So far, I've had this a few months and have worn it on trips and around the gym, and the fabric is holding up surprisingly well. I don't see this piece being relegated to the "climbing gym / trips basket" (as in, too worn to wear in my daily life lest some concerned citizen report me to Adult Protective Services) anytime soon.

My Patagonia Active Classic Unmentionables. The active classic cami is my go-to modesty layer on trips… I can wear it for days without discomfort, even day and night and climbing and filty and everything. The active undies get two thumbs up too. If it's a low-hygiene trip, they hold up better than most. If you have the luxury of an overnight for a wash, they hand wash and dry in a snap. For me, this line is the epitome of fit, function, and comfort for my outdoorsygirl life.
While I'm on the topic of Patagonia, I have yet to find a replacement for my beloved The North Face A5 climbing pants which I've worn the ass entirely out of (and have patched twice with denim) but still wear (carefully, reminding myself that I need to keep the long johns on lest I show a little more than I'm bargaining for. I keep hearing good things about Sickle pants, and two of my climbing partners swear by them, so I'll let you know how they work out once I get my recent order and take them for a spin. Fellow climbergirl Lizzy advocates Pagaonia's Stand Up Pants (presently on sale at 50% off at Patagonia.com)… I've never had any luck fitting Patagonia pants, but they may be worth a look.
It's funny, though — once it gets beyond apparel, my gear stash is heavily unisex or men's. Favorite climbing shoes, favorite packs, favorite helmet — all come in "pink gear" versions but for all of those I've wound up choosing unisex or men's versions instead of the women's because of either fit, comfort, or function. One of my upcoming purchases will be a new sleeping bag, and I do expect I'll shop the newer assortment of bags targeted at women before buying. I keep trying women's (and men's) harnesses to try to find a replacement (or replacements) for my old Black Diamond Primrose, since the newer BD harnesses aren't working out for me.
How about you? Which manufacturers and retailers are getting it right in women's gear, and why? What are your "pink gear" favorites?


Sara Lobkovich Newsletter
Join the newsletter to receive the latest updates in your inbox.