Pink biners, pink cams and pink ropes, oh my!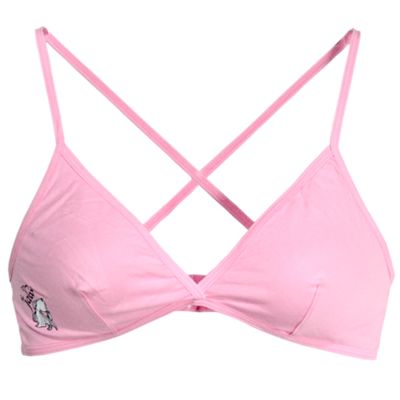 My friends over at Pemba Serves turned me on to this article abstract at SportsOneSource.com, about The Sporting Goods Problem with Female Consumers."
I've only read the abstract available on the SportsOneSource site at that link above — there's more in their March issue, according to the website.
Most of the story, even I can't actually find fault with. Yes, sporting goods stores have a long way to go to really serve the needs of female athletes. Yes, men (and women, a point missed by the author) apply different criteria and a different approach to making technical purchases than casual purchases. I'm a walking, talking example of one of the points in the article — that "women spread positive experiences with brands and retailers to their … friends and social network" (I edited out "spouse" there, since not all of us have one of those).
"When women are passionate about a product or brand, they become strong brand advocates…With social networks and the speed of technology, they spread the word about what they like, directly influencing purchasing decisions with other women, but especially with the men in their lives."
That's from Dan Sullivan at New Balance. He's right. Can't argue there (though I'd say, some of us directly influence purchasing decisions with other women and men, period).
Here's the part I take issue with.
"Five years ago we didn't have a pink ball glove, pink bb guns or pink kayaks, but all that stuff is now part of our assortment…That's where we're going."
That said, by Ken Meehan, Executive Vice President of merchandise at Dunham Sports.
Don't get me wrong. I enjoy the occasional ironic "pink" purchase. I've about worn through my pink "I heart my rack" rockclimbergirl.com t-shirt. My ipod shuffle is pink, and I love it. Just yesterday, I picked up a pink ditty bag, but that was a function of price, not color.
I'm not anti-pink. I'd say, I'm pink-neutral.
But, I don't own a single piece of pink technical gear. Full disclosure, I have pined for a pink Sterling Rope ever since climbing on a friend's Sterling and falling in love with the rope's hand, but that's not because it's pink. it's because their ropes feel like buttah.
To hear an EVP say that "where they're going" is "pink gear" makes me queasy. I'll give him the benefit of the doubt, and assume that by "pink" he really means "designed, from the ground up, based on research and real live hard work, with real female athletes' input and testing, to meet the specific needs of women athletes." That's a lot to pack into a pithy quote, though, so when I read about "pink gear," I'll just assume that's what's meant. Since the alternative — that manufacturers and retailers think that what women want is mens' gear painted pink with a flower on the label — just might trigger my ire.
The climbing industry seems to have a better handle on the Female Problem than the broader industry represented by this article… while there's always room for improvement, many of our brands offer good-quality, designed-for-women products as an option for women or men who they might happen to fit better than the unisex versions. I'm thinking that's why we haven't seen pink climbing shoes for women so much… I know a lot of men with low-volume feet who find a better fit in womens shoes (and I happen to be a girl who finds a better fit in mens'). Were the climbing shoe manufacturers to paint their shoes pink, I think very few men would take a second look at them despite their potential fit.
I have yet to find a harness to replace my old BD that I really like (mens' or womens' models), but sometimes I do find a piece of womens' gear that really does fit or work better for me. Adventure Medical Kits is on to something with a project that's in the works… but you'll have to sit tight for more news when it hits the prime time.
So, here's a thank you from us athletic girls to the climbing gear companies who are devoting R&D to our small subsegment (women) of a subsegment (climbers) of a subsegment (adventure / "extreme sports") of a segment (outdoor industry) of a market (sporting goods). By talking with and listening to female athletes and gear testers, the climbing industry seems ahead of the curve compared to other parts of the sporting goods industry. Please, keep up the good work. And now, if someone could just make a freaking harness to fit my freak of nature self…….
Sara Lobkovich Newsletter
Join the newsletter to receive the latest updates in your inbox.